Case Study
---
East Austin Studio Tour
App Development
The Background
As big fans of the event ourselves, we saw an opportunity to make the experience more convenient with an app that helps you discover artists, navigate the area, and make the most of your time.
App Store Rating
4.7/5
(App rating as high as Uber!)
The Challenge
EAST's printed guides are always beautiful and packed with info, but at 150+ pages, they don't make for handy planning or mapping. So our goal was to create a digital version of their guide, with a few additional capabilities and features.
The Solution
Having never worked with the organization that runs EAST (Big Medium), we cold-called them with a pitch for our app. They were thrilled with the idea and invited us to collaborate with them.
A few months later, the app was ready for EAST 2018. In addition to showcasing artists' work, we included the ability to discover and save favorite artists, view all the studios on an interactive map, and find artists based on preferred media.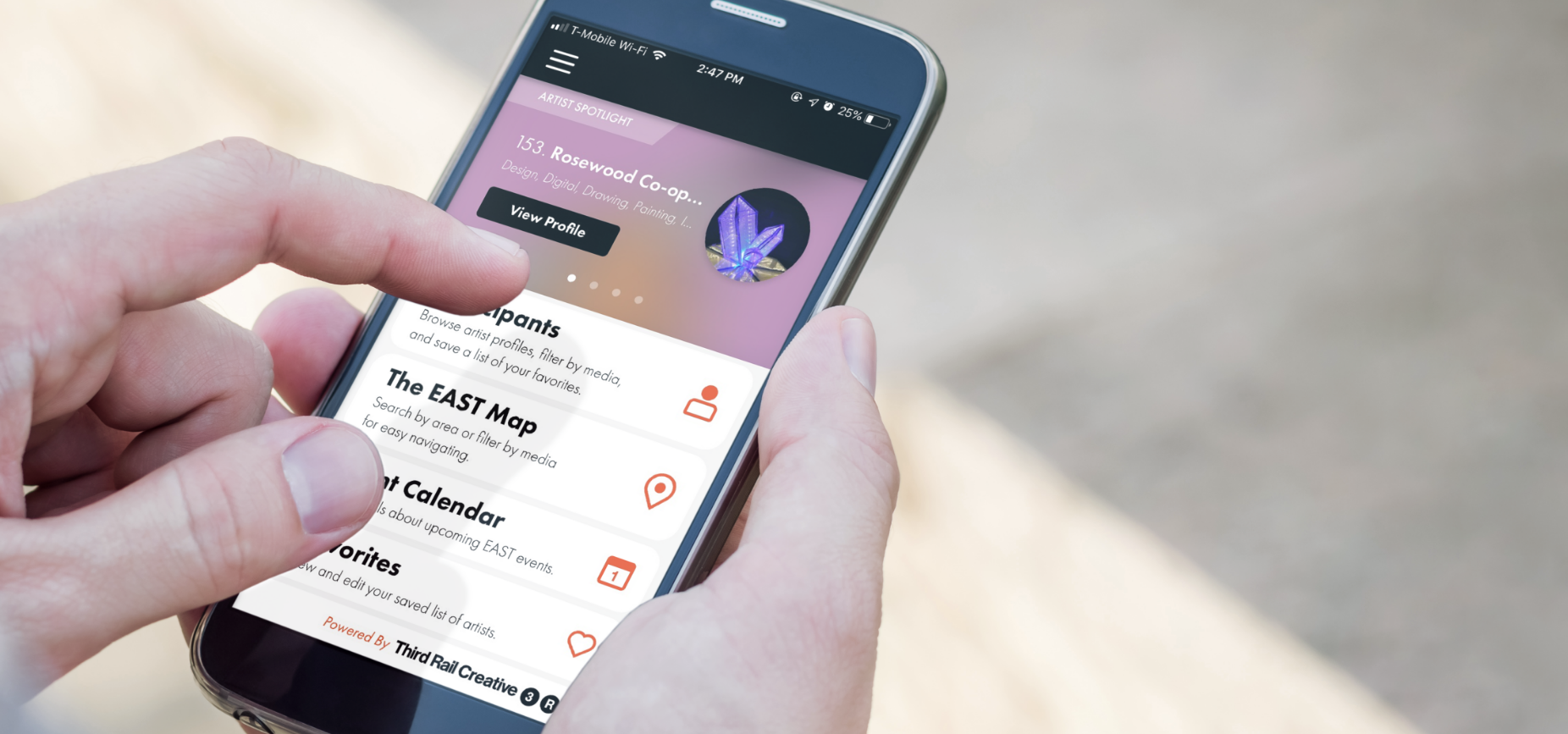 The Results
Total Downloads 4,621
App Store Rating 4.7/5
Times the app was used 11,546
Crashes 0
This is awesome! I've been waiting for this Finally, an app for EAST! So cool to have the map on my phone this year and I'm excited to use the favorites feature to map out my stops. Definitely going to get around to more studios this year!
– SarahG1988
I downloaded this app and was so surprised by its simplicity and all encompassing nature! It had it all and I highly recommend it!
– kandicerulz
WOW!! From paper map to interactive! Love it, looking forward to using it. Able to check out artists now and see in person later.
– Mikethebestplayer
"From our first meeting, Third Rail showed a deep understanding of our events and what was needed to take them to the next level. The app they developed made EAST more enjoyable, accessible, and navigable for both our attendees and artists. With a shared passion and excitement, they feel like a true extension of our team and we can't wait for our next collaboration."
— Jordan Gentry, Director of Programming, Big Medium